< Back to Racing News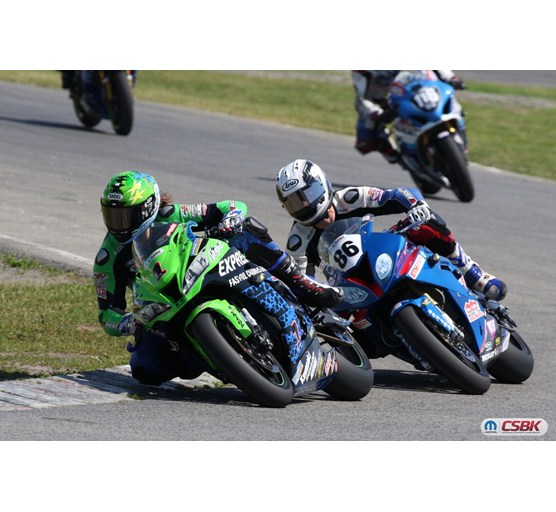 2019 June 24
Szoke Wins Superbike Race at Autodrome St Eustache
Szoke took an exciting crucial win at the last CSBK round to be held at Autodrome Saint-Eustache in Quebec. He performed strong all weekend long, earning pole position first before rising to the top of the podium in a back-and-forth battle with Young throughout the main event.
During the final laps of the featured Superbike class Jordan "The People's Champion" Szoke and rival Ben "Braveheart" Young split the single lapped traffic headed into the left hand corner off the back straight.
Ben chose the inside line as Jordan went around the outside setting himself up for a perfect pass into the dog leg. Earning Szoke the final ever victory at Autodrome St Eustache before it eminent closure at the end of the season.
This is Szoke's first win since returning to the Mopar Express Lane Kawasaki ZX-10R Ninja team.
"It took longer than expected." said an emotional Szoke at the victory podium. "But it just makes it that much sweeter. Recovering from surgery in November to building new bikes and picking up the pieces after a nasty crash in Shannonville. We earned this one and I'm going to enjoy it."
Szoke picked up maximum points during the weekend by also securing pole position on Saturday. He trails the championship by a mere 18 point lead with four races to go left in the 2019 campaign.
The series now travels east to Atlantic Motorsport Park next month, a circuit Szoke has won the last seven contests.